Looking for some gifts for gin lovers? we have come up with the ultimate list of gift ideas. Lets just say Gin is more than just a drink – it's a lifestyle. So when you send the perfect gin gift, it is sure to make a huge difference for the gin-lover. Whether its for a birthday, an anniversary, a special occasion, to say thanks or a cheeky gift for yourself, the ultimate gin-connoseur, these gin-credible gifts will surely impress any gin enthusiast.
The perfect gin
Obviously you can get gin gift packs, gin experience packs, nibbles and tonics with your gin, but the key here is the gin. And not just any gin, the best gin for your gin-loving gift receiver. Now choosing the pefect gin for gifting can be a delightful yet challenging task. Choosing the perfect gin for gifting can be a delightful yet challenging task. Whether you are picking a bottle for a gin enthusiast or someone new to the world of spirits, it is important to consider a few key factors to ensure the gift is truly special. Here are some paragraphs that provide guidance on how to choose the perfect gin for gifting. Alternatively you can skip all the below and just get them a bottle of the delicious and award winning Bright Night Gin, considered to be one of the best gins in Australia (hint hint 🙂
So for the non hint taker, here are the considerations
Taste preference of your gin gift recipient
The first step in selecting the ideal gin is to consider the taste preferences of the person you are gifting it to. To do this, think about their preferred flavor profiles. Are they a fan of citrusy gins, herbal or floral blends, or perhaps something more spiced? By understanding their taste preferences, you can narrow down your choices to gins that align with their personal preferences.
Research different gin styles
Familiarize yourself with the various styles of gin available in the market. Some popular options include London Dry Gin, Flavoured Gins like Pink Gin, Barrel Aged gins, Old Tom, Navy Strength, and New contemporary gins. Each style exhibits distinct characteristics, and understanding these differences will help you choose a gin that suits the recipient's taste preferences. Broadly we recommend, London Dry style to your classic drinker, Pink gin if the recipient likes the fruity flavours and Barrel Aged gin for a sophisticated gin drinker.
Consider the occasion
When selecting a gin for gifting, consider the occasion for which it is intended. If it is for a special celebration or a momentous occasion, opting for a premium or limited-edition gin can make the gift more memorable. Conversely, if it is a casual gift, a well-crafted and versatile gin would be appreciated.
Explore craft or small-batch gins
Don't stick to the heavy weights, craft gins are becoming increasingly popular due to their unique flavors and artisanal production methods. Exploring local distilleries or seeking out small-batch gins can add a thoughtful touch to your gift. These gins often showcase the creativity and passion of the distillers, making the gift more personal and unique.
Packaging and presentation
Apart from the taste and quality of the gin, the packaging and presentation of the bottle can also make a significant impact. Consider gins that come in beautifully designed bottles or gift sets. Striking packaging can enhance the overall gifting experience and make the recipient feel cherished.
Gin gift pack inclusions
Other than the gin, what else is in the gift pack? If they are a bit of an explorer you may want a gift pack that already has some tonic waters in there. For example, Bright Nigh Gin gift packs come with a variety of tonic waters, and a chocolate to pair the Gin and Tonics. We also have pamper packs which combine Gin with tasting chocolate and candle.
Gin awards and reviews
You may also want to take the time to research and read reviews about different gin brands and expressions. Online forums, spirits websites, gin awards, and expert opinions can provide valuable insights into the flavor, quality, and reputation of a particular gin. Additionally, seek recommendations from friends, relatives, or experts in the field to gain further guidance on which gins are considered exceptional.
Gin gift packs : curated sets for the perfect present
If you're looking to surprise a gin lover in your life, then a gin gift pack may just be the perfect present. Gin gift pack are curated sets that include a variety of gin-related goodies, ensuring a truly delightful and memorable gift-giving experience. These thoughtfully put-together sets are designed to cater to all tastes and preferences, making them a versatile and foolproof choice when it comes to special occasions.
One of the most appealing aspects of gin gift baskets is the wide range of options available. From craft gins with unique botanical blends to classic London dry gins, there is a gin basket to suit every gin enthusiast's palate. These packs often feature a selection of high-quality gins from renowned distilleries, ensuring that the recipient gets to explore and discover new flavors and brands they may not have encountered before. Each bottle is carefully chosen to showcase the best this beloved spirit has to offer.
In addition to the main attractions – the gins themselves – gin gift baskets usually come with an assortment of complementary items. These can include an array of artisanal tonics, allowing the recipient to experiment with different flavor combinations and elevate their gin drinking experience. Many baskets also include a variety of garnishes such as dehydrated fruits, herbs, or spices, enabling the gin lover to customize their drinks to perfection. In some cases, the baskets even come with specialty cocktail ingredients and recipe cards, turning their gin drinking experience into a creative and fun endeavor.
The presentation of gin gift packs are often as impressive as the contents themselves. The packs are carefully arranged and beautifully packaged, making them visually appealing and ready to be presented as a stunning gift. Some evencome with additional extras such as elegant glassware, cocktail shakers, or bar utensils, adding an extra touch of luxury to the overall experience.
Bright NIght Gin Gift packs
Bright Night Gin gift packs are a delicious option ror anyone who appreciates the complex flavors and aromas of an award winning craft gin. Our Gin gift packs typically feature a selection of high-quality gins with accompanying Tonic water and Tasmanian produce. The gins featured in the gin gift packs have a unique blend of botanicals and spices.
Bright Night Gin Pamper packs
Bright Night Gin papmer packs show your gift recipient that you care. The Gin pamper pack includes a delicious full 700ml bottle of our award-winning gin, a Zen and tonic candle which smells of Australian wilderness and gin, and an accompanying chocolate.
Bright Night Gin multi-packs
Our gin multi-packs come in packs of 2 or 3 of our delicious award-winning Australian gins. Our Tasmanian sunset pack includes our Wild Tasmanian Gin and our Pink gin, while our three packs pack contains a 700ml bottle of each of our 3 gins.
Other unique and creative gift ideas for gin lovers
Gin Tasting Set:
Instead of gifting just one bottle of gin, surprise the gin lover in your life with a gin tasting set. These sets usually include a selection of small bottles of various gin flavors, allowing them to try different brands and styles. It's a unique and creative way for them to explore new gins and expand their palate. Bright Night Gin offers a gin experience pack (3 x 50 ml gins) or a Gift pack ( 3 x 200 ml gins)
Gin Botanicals Kit
For those who enjoy experimenting with flavors, a gin botanicals kit can be a fantastic gift. These kits typically contain a variety of botanicals like juniper berries, coriander seeds, orange peel, and more, enabling the gin lover to create their own unique gin blends. It's a thoughtful present that encourages creativity and customization.
Gin Making Kit
Take the gift of gin a step further by giving a gin making kit. These kits provide all the necessary tools and ingredients to craft homemade gin, including the base alcohol, botanicals, and instructions. It's an excellent option for gin enthusiasts who want to delve into the art of distilling their own gin and create truly personalized blends.
Gin Cocktail Recipe Book
For those who enjoy mixing up cocktails, a gin cocktail recipe book is a thoughtful and creative gift idea. Look for a book that features a wide range of gin-based recipes, from classic cocktails to innovative concoctions. It will inspire the gin lover to explore new flavor combinations and impress their friends with their mixology skills.
Gin Accessories
Enhance their gin-drinking experience with unique accessories. Consider gifting them a beautiful gin glassware set or customized gin coasters. Another option could be a gin infusion kit, enabling them to infuse their favorite botanicals into their drink to enhance the flavor. These small additions can make their gin drinking sessions even more enjoyable and memorable.
Gin-themed Experiences
Surprise the gin lover with an experience related to their favorite spirit. Look for gin distillery tours or gin tasting events in their area. Alternatively, you could arrange a private gin cocktail masterclass or a gin-themed dinner at a local restaurant. These experiences allow them to deepen their knowledge of gin while enjoying a unique and memorable outing.
Gin Subscription Box
Consider gifting a gin subscription box, which delivers a carefully curated selection of gins and related products to their doorstep every month. These boxes often include a variety of craft gins, tonics, mixers, and additional surprises like garnishes or cocktail recipes. It's a gift that keeps giving, allowing them to discover new gin brands and flavors regularly.
By thinking outside the box and considering these unique and creative gin-themed gift ideas, you're sure to impress the gin lover in your life and give them a present they'll truly appreciate.
FOLLOW US ON SOCIAL MEDIA
Our range of multi award winning gins
Bright Night Wild Tasmanian Gin
Capture multi award winning Wild Tasmania in your glass. Recently awarded Asia Pacific spirit of the year 2022.
Bright Night Pink Gin
Looks like summer sunset, tastes like strawberry sherbet. Made with Tasmanian murtis berries, try our new Pink Gin.
Chardonnay Barrel Aged Gin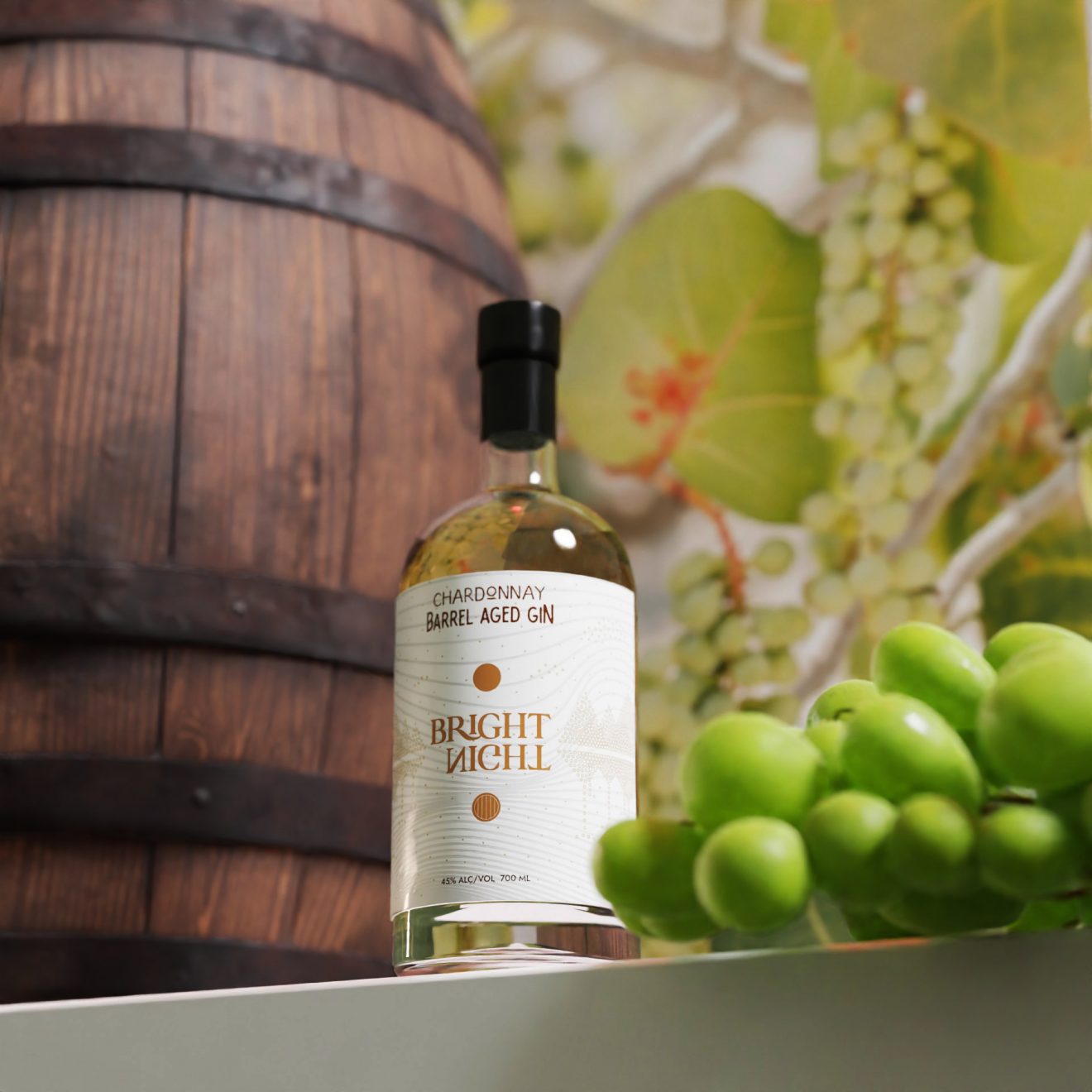 Award winning Wild Tasmanian Gin aged in a Tasmanian Winery's Choardonnay (French Oak) Barrel