We are pairing out Award-winning Tasmanian gins with Premium Chocolate and a hand poured Gin and Tonic fragrance'd candle to create the ultimate sensory indulgence pack. Create a feast for your taste, smell and visual with our thoughtfully curated gin gift pack.
Zen and Tonic Botanical Candle
A sensory experience for the Bright Night Gin connoisseur! Our Zen and Tonic candle is a tribute to the Australian landscape where we get our botanicals! Handmade in Australia using natural soy wax, the candle combines the world of sereneity and sensory delight.
Gin and Chocolate combination
An exploration, a sensation, a taste adventure – the matching of Bright Night gin with cuvee chocolate is an exquisite journey of discovery. A blend of two worlds, the unique flavours of gin and chocolate, create a complex yet harmonious mélange in your mouth, inviting you to sense each flavour note and nuance perfectly.
Our three award-winning Tasmanian gin expressions are beautifully paired with different chocolate types, each combination impeccably matched to celebrate the distinctive character of the gin.
Bright Night Wild Tasmanian Gin and Soleo 42% Milk Chocolate
As the star of our ensemble, the Bright Night Wild Tasmanian Gin is a London Dry style gin that has won multiple awards, including the coveted Double Gold Medal and the Asia-Pacific Spirit of the Year Trophy in China. Bright Night Wild Tasmanian Gin presents a wonderful combination of carefully selected botanicals, showcasing a classic juniper taste with a modern twist. It's a gin with an innovative spirit, bursting with vibrant, wild tastes of Tasmania. The Soleo 42% Milk chocolate offers a luscious, creamy flavour profile with smooth and delicate tones. These qualities make it the perfect partner to the Bright Night Wild Tasmanian Gin. The gin's bold character of invigorating botanicals weaves harmoniously with the velvety richness of the milk chocolate. This match promises a taste experience that's tantalising, multi-layered and deeply satisfying.
Bright Night Pink Gin and Bianco 35% White Chocolate
Our Bright Night Pink Gin has notched an impressive three gold medals in its debut year, winning in Australia, San Francisco, and China. Infused with the flavours of murtis berries, it offers a delicately sweet, brilliantly fragrant, and subtly tart taste profile. This pink gin is not just a sensory delight but also a visual treat with its attractive rosy hue. We've paired the Bright Night Pink Gin with Bianco 35% white chocolate. The soft, silky sweetness of white chocolate not only compliments the gin's charming berry flavours but also enhances them. The white chocolate's buttery profile perfectly blends with the gin's sweet-tart undertones, creating a symphony of perfectly balanced sweetness that leaves a lingering hint of pleasure on your palate.
Bright Night Chardonnay Barrel Aged Gin and Amphora 65% Dark Chocolate
Our third expression, Bright Night Chardonnay Barrel Aged Gin, takes on an added layer of complexity and richness through maturation in Chardonnay French Oak barrels. This ageing process imparts an exquisite depth of flavour and a beautiful golden colour to the gin. On tasting, we find nuanced notes of oak, hints of wine's fruity aromatics, mingled with classic gin botanicals. Pairing such this intriguing gin with the Amphora 65% dark chocolate is pure indulgence. The dark chocolate's robust, bitter-sweet symphony of flavours can stand toe-to-toe with the gin's intricate taste profile. The slight bitterness of the chocolate prolonged the aftertaste of the gin, leading to a rich, complex and thrilling taste experience.
Bright Night's Tasmanian gins, each with their distinctive character, when combined with carefully selected chocolates, lead to a sensory journey that's engaging, exclusive and exhilarating. Through this pack, we want to provide you with a taste and smell experiences that go beyond the ordinary. Each match is carefully considered, designed to enhance, complement and bring out the flavours of both gin and chocolate. Amidst the rapidly evolving world of spirits and chocolate, pairing foods and drinks continue to evolve as a creative and culinary art. Join us as we explore these vast flavour landscapes together, one sip, one bite, one gin and chocolate pairing at a time while we smell the aromas of the australian landscape.
FOLLOW US ON SOCIAL MEDIA
Our range of multi award winning gins
Bright Night Wild Tasmanian Gin
Capture multi award winning Wild Tasmania in your glass. Recently awarded Asia Pacific spirit of the year 2022.
Bright Night Pink Gin
Looks like summer sunset, tastes like strawberry sherbet. Made with Tasmanian murtis berries, try our new Pink Gin.
Chardonnay Barrel Aged Gin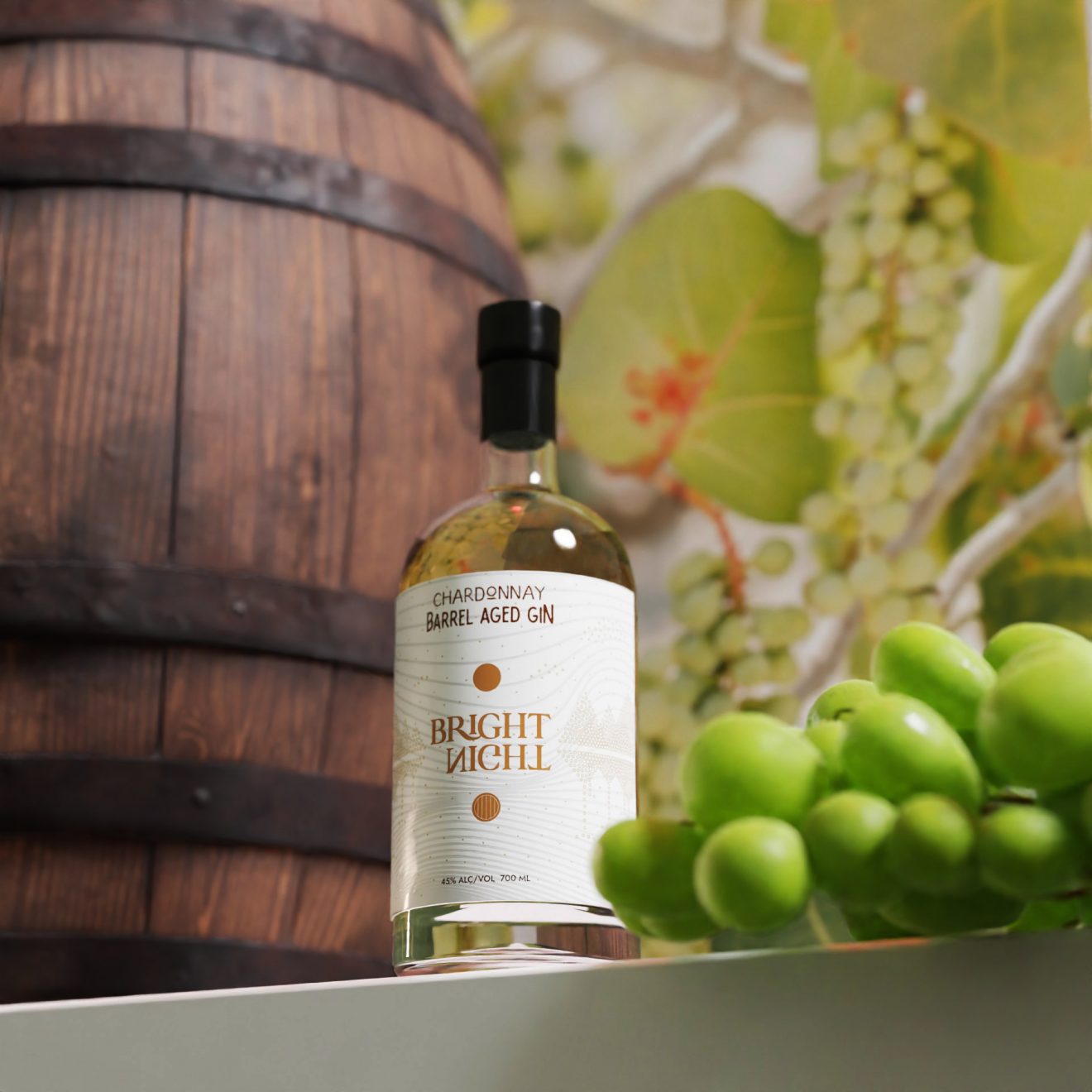 Award winning Wild Tasmanian Gin aged in a Tasmanian Winery's Choardonnay (French Oak) Barrel