Let's talk gin tasting today – because in the gin universe, taste is everything. It's the compass that separates the casual gin sippers from the hardcore connoisseurs. We're the kind of folks who are always on the hunt for those unique and complex flavors that the Australian gin scene has to offer. And guess what? We've got something pretty darn special in store – our Bright Night Gins tasting packs. They've been rocking the world of gin enthusiasts all over Australia, and it's all thanks to our love for distilling and the fantastic mix of native Australian and imported botanicals.
Who wants to go out anyway? Bring the Gin Tasting Party home!
So, picture this: it's a Friday night, and you're chilling at home, looking for something to spice up your evening. Well, we've got just the thing – our Gin Tasting packs. We rolled these bad boys out last year, and they're designed to bring the Bright Night Gin experience right to your doorstep. No need to go out and hunt for a gin joint; Book something, organise your mates, get to the spot, worry about driving home….. ugh, if only there was a better way? Hold on a sec…. actually you can have the party come to you, Thanks to Bright Night Gin. Ginius… you might say. These packs are your ticket to an epic gin-tasting journey, and they include three 50ml bottles of our award-winning gin. But let's break it down a bit:
3 Epic Award Winning Australian Gin Expressions
First up, we've got the "Wild Tasmanian (London Dry Style) Gin." It's like a classic with a twist – think London Dry style gin, but with a unique Tasmanian flavor that's like taking a sip of the wild. It's the kind of gin that transports you to the rugged wilderness of Tasmania, with juniper berries that have seen it all. These berries, grown in the wilds of Tassie, give the gin that extra oomph. Mix in some hand-picked native Tasmanian botanicals, and you've got a gin that's like a symphony of earthy, citrus, and floral notes playing on your tongue.
Next up, we've got the "Murtis Berry powered Pink Gin." Now, if you're into a burst of fruity goodness in your gin, this one's the jam. Imagine all the berries you can think of, and then some. It's like a berry explosion in your glass, and the sweetness is dialed up to eleven. You can sip it neat, but here's a tip: try it with our next star, CAPI Low Sugar Tonic Water – it's like a berry bonanza.
And finally, let's talk about the "Chardonnay Barrel Aged Gin." This one's like the wise old sage of our gin collection. It's aged to perfection in Chardonnay barrels, and that aging process adds a whole new level of depth and richness. The gin gets to cozy up to the wood of those barrels, and it soaks up all the goodness. You'll get hints of Chardonnay, caramel, and vanilla in every sip. It's a gin with a story to tell, and each sip is a new chapter.
The perfect Tonic water
Tonic to gin is like Joey and Chandler, Seinfeld and George, Woody and Buzz, you get the idea. Now, you might be wondering, what's the deal with tonic water? Well, here's the secret: to truly appreciate the flavors of Bright Night Gins, you've got to pair them with the right tonic. See, tonic waters with a lot of sugar can sometimes hog the spotlight, hiding those subtle botanical flavors we've worked so hard to create. That's why we always say, go with low sugar tonic water. It's like the magic key to unlocking all those gin treasures. You want the real deal in your gin-tasting adventure, right?
That's where CAPI Low Sugar Tonic Water comes into the picture. We've been using it at our events when we do gin tastings, and let me tell you, it's like a match made in gin heaven. It's like these two were meant for each other. It doesn't try to steal the show from our gin; it actually enhances the individual flavor profiles of our gins. It's like the dynamic duo of the gin world.
Capi Low Sugar Tonic water
Now, let's talk a bit about CAPI Low Sugar Tonic Water. This stuff is a real crowd-pleaser, with only 2.5 grams of sugar per 100ml and a mere 25 calories. It's the lightest tonic in the CAPI range, and that lower sugar content makes it not just a healthier choice but also perfect for enjoying a low-calorie Bright Night Gin. You won't be smacked with excessive sweetness; instead, you'll get to savor all the little differences in our gins.
And here's the kicker – with CAPI Low Sugar Tonic Water in our packs, you can bring the whole gin-tasting experience to your home. You don't need to stress about which tonic to pick; it's like having a gin party delivered right to your doorstep. You can enjoy a solo tasting or share the experience with friends and family ( You may wanna grab a bigger pack for a bigger party 🙂 . It's all about savoring the magic of Bright Night Gins in a relaxed and familiar setting.
Don't just taste gin, create an experience
Gin tasting with our gin, (our moms consider Bright Night to be Australia's best gin 🙂 is not just about the taste; it's about creating fantastic memories. Imagine you and your buddies or family, sipping on our gins, with that subtle and powerful dance of flavors from CAPI Low Sugar Tonic Water. It's like you're creating moments you'll remember for a lifetime. If you want more ambiaaaance, or senosry ASMR stuff, add our Zen & Tonic candles to the mix, you won't regret it.
So, what are you waiting for? Dive into your gin-tasting journey, create unique gin experiences, and trust me, you'll be singing the praises of this perfect combo in no time! Cheers to unforgettable gin-tasting moments buddy!!
FOLLOW US ON SOCIAL MEDIA
Our range of multi award winning gins
Bright Night Wild Tasmanian Gin
Capture multi award winning Wild Tasmania in your glass. Recently awarded Asia Pacific spirit of the year 2022.
Bright Night Pink Gin
Looks like summer sunset, tastes like strawberry sherbet. Made with Tasmanian murtis berries, try our new Pink Gin.
Chardonnay Barrel Aged Gin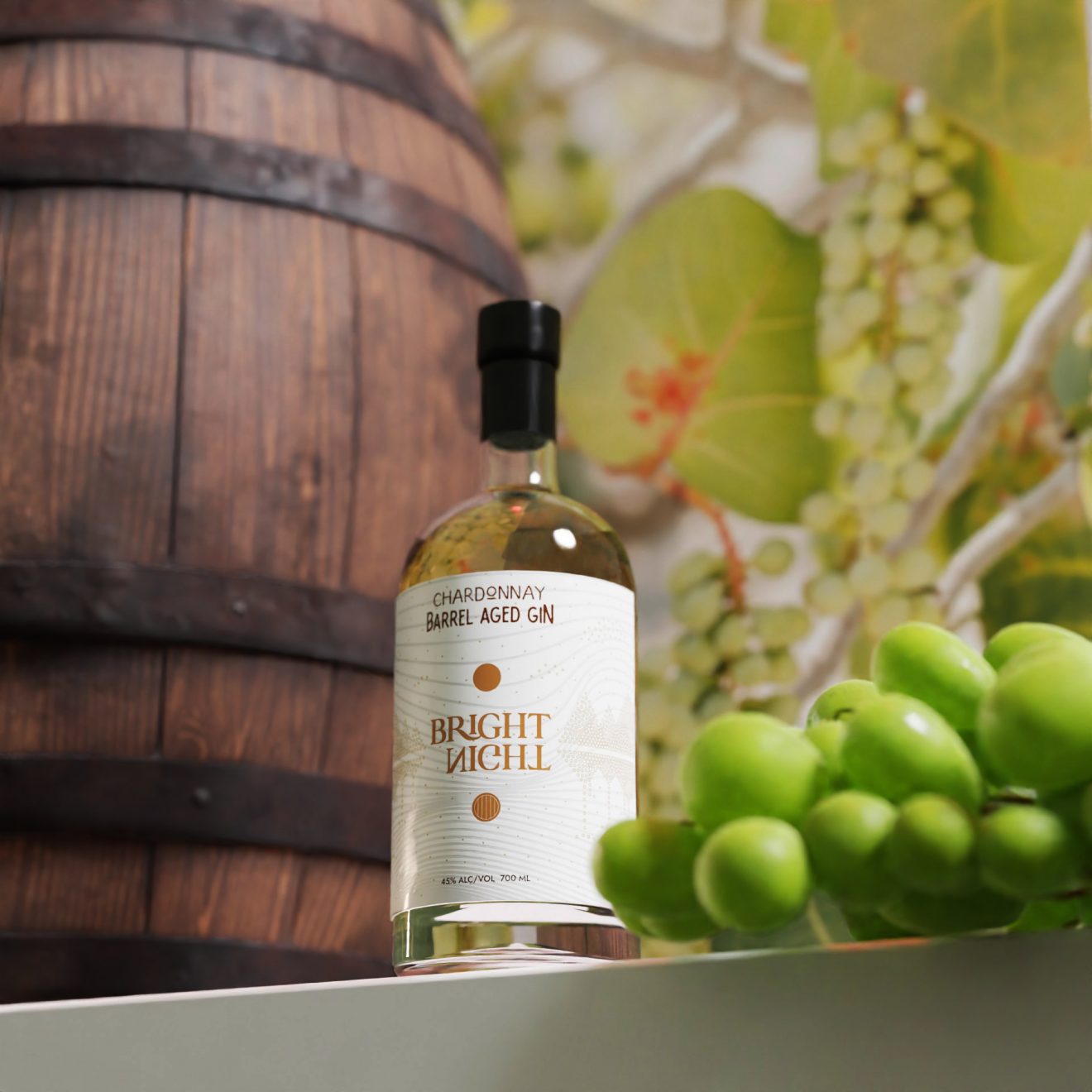 Award winning Wild Tasmanian Gin aged in a Tasmanian Winery's Choardonnay (French Oak) Barrel