A rich spectrum of botanicals, fruits and berries create the delicious sip of flavoured gin. More than just a colourful buddy to the London Dry Gin, flavoured gins like our Bright Night Pink Gin bring innovation, excitement and authentic playfulness to the world of Gin. And like other pink gin creations, our very onw Pink Gin is shaking up the Australian and International gn scene, scoring gold medals and turning heads. Lets dive into the joys and details of flavoured gin and unravel the charm of our award-winning Pink Gin.
Flavoured Gin: A taste journey
In essence, flavoured gins are a fruity/berry/flowery twist on the classic juniper-infused spirit. They are oftentimes distilled in the same way as traditional gin but with the extra layer of infusion, maceration or distillation with fruits, flowers, or other botanicals to yield a distinct flavour profile. Most flavoured gins are actually flavoured after the distillation process, differentiating them from a London Dry style of gin. With a wide spectrum of flavours at play, every sip of flavoured gin is a symphony on the palate, urging you to savour the harmonious blend of botanicals and fruits, berries or flowers.
But of course, not all flavoured gins are made equal. The quality of botanicals, fruits, and the distillation process all play a pivotal role in shaping the flavour profile and quality of the gin. When done right, they make the gin attend a balance that is both complex and delicate, resulting in a libation that is wistfully aromatic yet bracingly fresh.
Adding Flavours to Gin: The Process
The secret to the mesmerizing flavours of flavoured gin lies in the very meticulous ways that flavours are introduced to the gin. While some flavoure gin is made by steeping the botanicals in the alcohol before distillation, most flavoured gins are made by introducing the flavour to the gin already distilled with the core botanicals. Here are some ways flavours are added to the gin
Maceration – The gin is mixed with the ingredient (fruits, berries etc) and let to sit for a period of time. The ingredient is then macerated and the gin is then filtered and bottled.
Steeping – In this process, the ingredient sits with the distilled gin for a period of time. The ingredient breaks down or releases its flavours and the gin is then filtered and bottled. There is no manual breaking down of the ingredient.
Mixing – The gin is mixed with another liquid (for example raspberry juice)
Depth and complexity are usually added through maceration/steeping after distillation. The gin fully absorbs the rich, fruity notes and vibrant colours.of the ingredient. The end result? A gin that is profoundly imbued with layers of flavours and a pleasingly vibrant hue.
Our Pink Gin: A Sparkling Star in the Gin Landscape
Our Pink Gin is a testament to our laborious flavouring process and our zealous commitment to quality. Made with a symphony of wild botanicals from the heart of Tasmania, our Pink Gin bursts with a sheen of high-toned fruits atop the juniper foundation, resulting in a bright and fresh palate that is complex yet utterly enticing.
It's more than just a pretty face. Our Pink Gin has proven itself to be one of the best gins in Australia, standing tall with three gold medals from Australia, San Francisco, and China in its inaugural year alone. These accolades speak volumes about the quality of our gin and the ingenious craftsmanship that went into creating it.
One of Australia's best pink gin
Beyond the Australian shores, our Pink Gin is also making waves on the global gin stage. Our Pink gin is made by steeping our award-winning Wild Tasmanian gin with hand picked murtis berries from Penguin in Tasmania's west coast. Our gin has clinched the Asia Pacific Spirit of the Year trophy in China, a double gold medal, and a spectacular score of 90 points in the IWSC – an enormous feat for any spirit. Our Pink gin is the same gin flavoured with Murtis Berries. Our pink gin has now won gold in Australian Gin awards, San Francisco Wine and Spirits Awards and in China Wine and Spirits awards.
These international recognitions underscore our mission of creating a world-class Pink gin that celebrates the bountiful botanical wealth of Tasmania in each sip. And by scoring these big wins, we are, indeed, shaking up the gin scene by showcasing what Australian gin– specifically Tasmanian gin– can bring to the table.
The Unstoppable Rise of Australian Gin
Our collection of awards serves as a testament to the significant strides that Australian gin has made in recent years. Australia's unique botanical diversity and innovative distillation techniques are paving the way for a gin scene that is as robust as it is dynamic.
The Bright Night gin expressions have accumulated a spectacular array of awards, with each expression winnning gold at home in the Australian gin awards. The gin have also won double gold in China and gold in the biggest award, the San Francisco wine and spirits competition.
Our story shows that Australian gin, in all its forms and flavours, can stand proud on the global spotlight, rivalling even the most renowned gins from traditional gin-producing countries. And more than that, it highlights our steadfast dedication to creating a gin that is truly Australian – from botanical selection right up to the final distillation.
The future for our Pink Gin
Since the murtis berries are a rare commodity for Australia, it is a hard to get berry. Luckily we have heaps of Pink Gin in stock and enough for a few more rounds. Beyond that we may have to look into getting these little wonderful berries from somewhere. That said, the journey continues for now.
FOLLOW US ON SOCIAL MEDIA
Our range of multi award winning gins
Bright Night Wild Tasmanian Gin
Capture multi award winning Wild Tasmania in your glass. Recently awarded Asia Pacific spirit of the year 2022.
Bright Night Pink Gin
Looks like summer sunset, tastes like strawberry sherbet. Made with Tasmanian murtis berries, try our new Pink Gin.
Chardonnay Barrel Aged Gin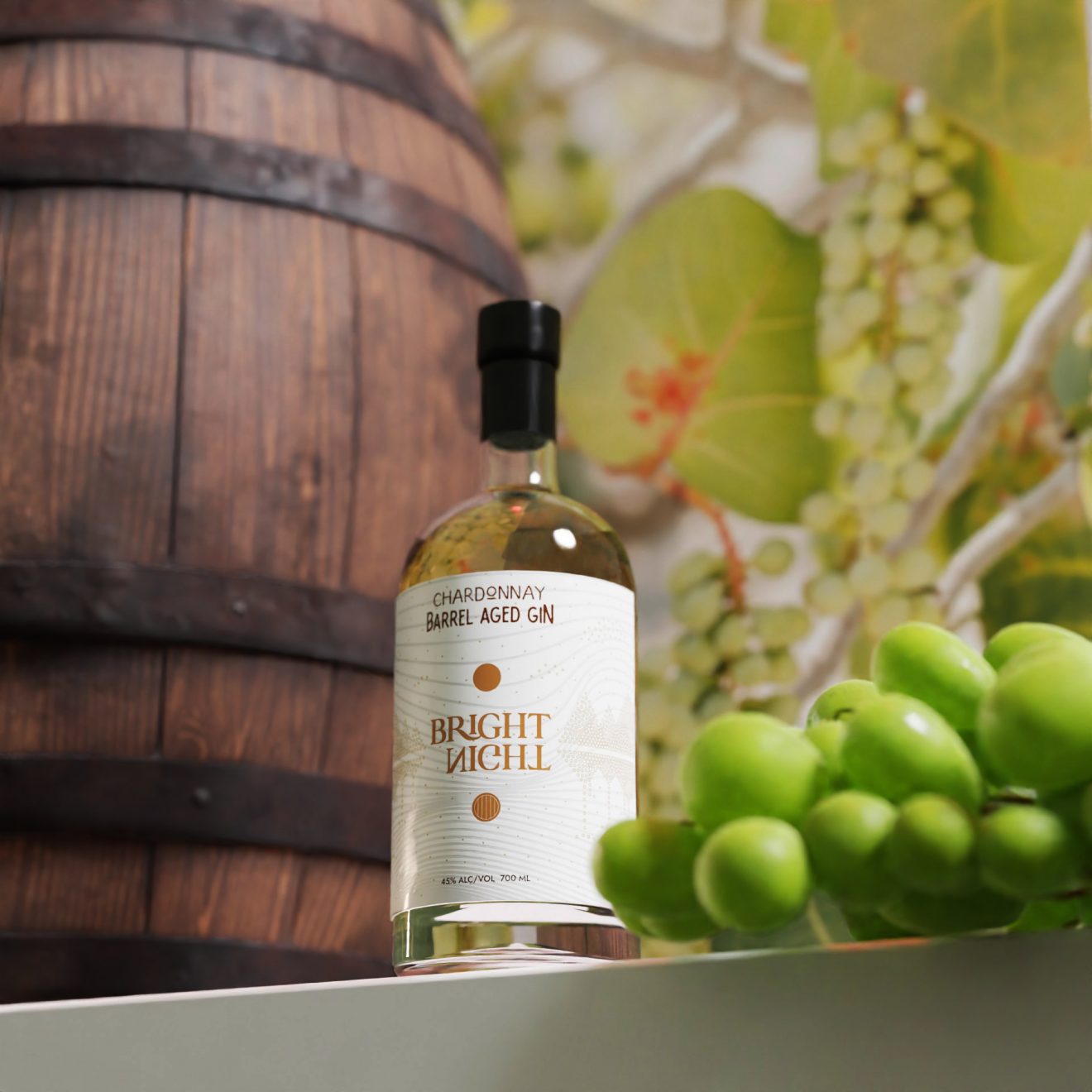 Award winning Wild Tasmanian Gin aged in a Tasmanian Winery's Choardonnay (French Oak) Barrel